Welcome to the Sir Tools Web Site
Foreign & Domestic Auto Repair Tools
Sir Tools B 90 Master Kit
B 90 Adobe pdf File Click Here

B 90 Master Kit

Sir Tools...The Original
and #1 in the World !
WHEEL BEARING & HUB R&R KIT
This is the only unit in the world for R&R
of the Rear Wheel Hub & bearing of German vehicles,
as well as Front Wheel Hub & Bearing
of Asian, Domestic and German vehicles.
Sub kits are available also !



HUB EXTRATOR BRACKET

ADAPTER SHOE

ADAPTER SHOE

PUSHER WASHERS

RECEIVER SLEEVE

NUT -BOLT & BEARING
FRONT, REAR OR A.W.D VEHICLES.
BUILT IN SELF CENTERING MECHANISM.
INCORPORATES A ROLLER THRUST BEARING.
LINES UP STRAIGHT AS AN ARROW DURING R&R.
20 YEAR SERVICE HISTORY AT THOUSANDS OF REPAIR SHOPS.
EVERY KIT COMES COMPLETE WITH A DETAILED INSTRUCTION MANUAL.
SAVES TIME AND MONEY WITH ON THE CAR APPLICATION, NO NEED FOR A HYDRAULIC PRESS
INVENTED BY SIR TOOLS IN 1979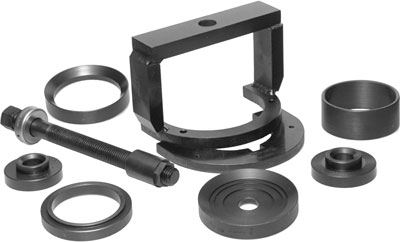 SAMPLE OF THE kit for bmw (number b 90-bmw)
this picture shows an example of A PRE-ASSEMBLED KIT
FOR SPECIFIC VEHICLE APPLICATIONS




Information: Designed to accurately and efficiently Extract or Install Hubs
and singular Wheel Bearings of spindle assemblies.
Applicable: Front, Rear or All Wheel Drive vehicles with independent suspension
and equipped with solid roller ball bearings.
Sub-Kits: The B 90 Master Kit can be pre-assembled for specific vehicle application.
Thus, the sub-kits are comprised of less components than the master kit.
Upgrades: Individual components can be purchased at any time.
Adding components to your B 90 Sub-Kit will allow your vehicle application to grow.

BMW Tools | Mercedes | Porsche | Volkswagen | Audi | Volvo | Asian | Home